Hey there, Sexy! Yes, I mean you: the sweet, lonely boy reading through the phone sex blogs and wondering why you can't meet a nice girl and have the kind of relationship that all your friends seem to be having. Well, don't be TOO envious, Sugar! Those guys also have all the headaches and bitchiness that go along with having to be "on" 24/7 and trying to please their girl. That's why GFE phone sex is so perfect! You get your needs met without any of that fucking drama.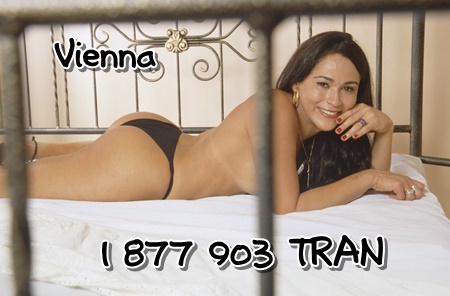 Feeling down and unwanted? Well, there's never a time of the day that Miss Vienna isn't craving your attention, lying in her bed, touching herself, and wondering about all the things that are on your mind. All you have to do is call, and I'll listen to your problems and fears and fantasies and NEVER judge or nag you. If it's an encouraging word you need, just curl up with Miss Vienna and let her tell you all the wonderful and amazing things she sees in you – how strong you are, how handsome you are, what a great lover you've always been. Real life is messy, Babe, but calling me for GFE phone sex lets you have all the best parts of the girlfriend experience without the pain-in-the-ass bullshit most women want to throw at you because they "love" you.
Don't have a job? Living at home with Mom and Dad? You think you're ugly or your dick is too small? None of that matters when you call Miss Vienna for GFE phone sex!! I will love you just the way you are. Or just the way you want to be! Build your ideal fantasy life and make me your partner in crime! Just one of the many benefits of girlfriend phone sex is that you can call and be anyone you want to be, and I'll be anyone you want me to be, too. I can have a dick one day, a pussy the next, or BOTH!! Let me be the girlfriend of every dream you've got, Honey!!
So go ahead – create your dream life and I'll be your dream girl!! Call and ask for Vienna TODAY at 1 877 903 TRAN!