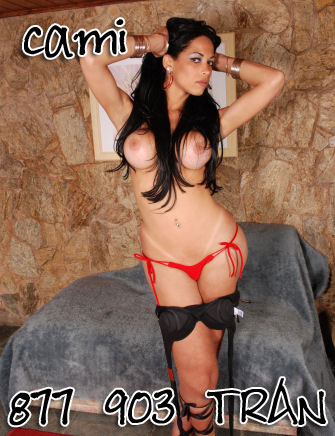 Have you found that lately you're jerking off to the thought of being down on your knees with a big fat cock in your mouth? I know, you just can't help it… your mind just automatically goes there, doesn't it? You keep finding yourself wondering what the hell it even means, don't you? Are you gay? Are you bi? Do you just have a kinky fantasy? I think you're the perfect person for bi curious phone sex. If you want answers, call me and we can figure all of that out together.
So, tell me… during those fantasies you've been having are you sucking cock? See, I'm the perfect person to talk to about it. I have a dick, but I'm am also feminine enough that maybe you won't feel quite so guilty or weird about sucking cock. Trust me, eventually you will accept what you are and move on to men, but I'd love to teach you how to suck dick. I'll help you learn and feel comfortable with it. You're going to be sucking dick like you've been doing it all your life before you know it.
Or do you picture yourself bent over with a dick in your ass? I know exactly how amazing that feels. The feel of that cock buried deep inside you is going to make your dick so fucking hard. You're going to feel a kind of excitement that you've never felt before. You're going to be turned on like never before. And the orgasm you're going to have from being fucked… it's going to make you see stars. All it's going to take is one time and you're going to be hooked on dick.
Ready for your bi curious phone sex call? Dial 1 877 903 TRAN and ask to talk to Cami
AIM and Yahoo: CallCamiTS