Tits, hooters, bazongas, boobs, headlights, udders, funbags, jugs, melons, cans, knockers…..the list goes on and on, and if you're a breast man then you know them all, don't you sweetie? So what if you're a breast man, but you like a nice cock too? That's when you go looking for dirty little Lydia, because unlike some of those other gurls, I've got some nice, big, round, beautiful tits for you to play with while you're also playing with my 7 ½ inches! If you're the guy who wants it all, then call me now for some big tit phone sex with some delicious cock on the side!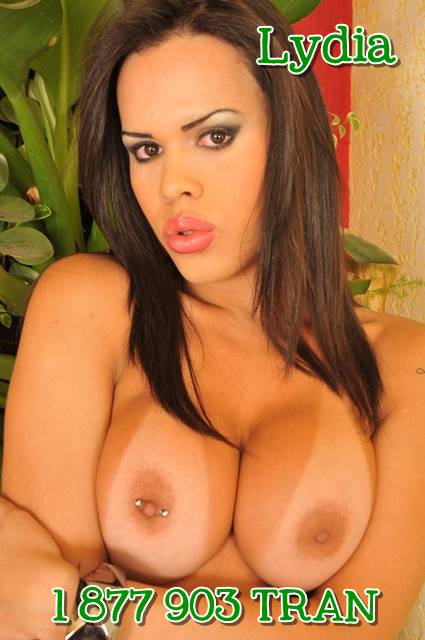 Baby, you know you love melons like mine, especially when one of them is pierced – you can't help but be attracted to the pretty, shiny, sparkly object that draws your eye right to my delicious dark pink nipple. Your eyes don't seem to want to stray away from my plump pillows, do they honey? No way, baby, but that's ok. No matter what we do, you can still enjoy my funbags when you call me for big tit phone sex. We can always involve my double D's if we're clever, sweetie, so no worries….
I know you want to suck my cock off, right, but that gives you the best view of my tatas, doesn't it hon? If you want me to suck your cock, I'll lay you on your back and suck you from off to the side – this way you can play with my big tits while your cock is in heaven. To fuck or be fucked – that's the next question, but whether I'm on top of you while you're on your back, or you're on top of me while I'm on mine, either way my hooters are there for your enjoyment. The big finale – I want you to call me for big tit phone sex so we can have you cum all over my tits after you slide that aching cock of yours up and down, up and down, in between my tits, with that swollen head aimed right for my mouth….
Want big tit phone sex with a curvy shemale?
Call 1 877 903 TRAN and ask for Lydia!!
Twitter: @LydiasXxx
Google Hangouts IM & Gmail: lydiassecretxxx@gmail.com