I know that there are some guys who are curious about sucking cock and they just haven't had the courage to do it yet. You can, of course still call me for coerced cock sucking phone sex if you need an extra push. But the guys I want to talk to? I want to talk to the ones who have only dated biological women and have never even wondered what it would be like to suck a dick. The ones who have never masturbated while thinking about having a cock shoot a load of cum deep in your mouth.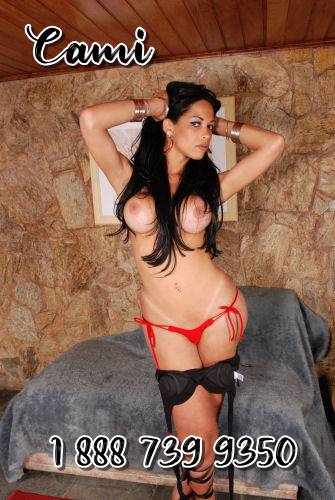 I even have a scenario in mind that I think would be really fucking hot. I'm a friend of your wife and we've been out all day shopping. We stopped for dinner and had a few too many drinks and you have to come pick us up. You both tell me I should just spend the night at your house, since I'm too drunk to drive.
Your wife goes to bed immediately and passes out. You come downstairs and help me up to the guest room and I catch you looking down my shirt. I slap you on the ass and tell you that you're a naughty boy and I see that your dick gets hard.
There's one thing… you don't know that I have a surprise for you under my dress, and when you reach under my skirt, you discover that I have a little more than you bargained for. You try to back away and I push you down on the bed. I tell you that if you don't get down on your knees and suck my dick, I'm going to tell your wife that were more than willing to fuck me before you found out that I have a dick. Sounds fun, doesn't it?
Call 1 877-903-TRAN and ask for Cami for coerced cock sucking phone sex if you want to hear what happens next!