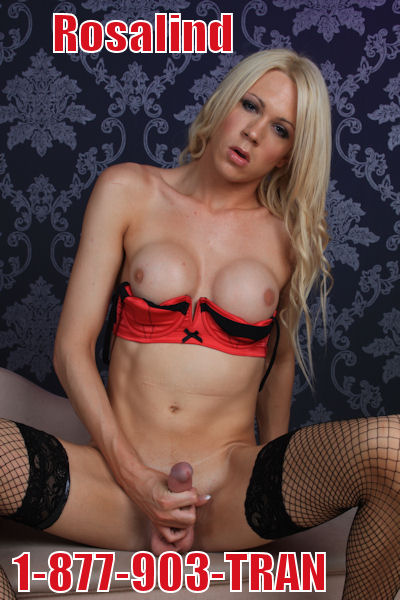 Oh my god, I met this man a few days ago when I was out with my friends. He was so sure that he would never be interested in a tranny. It seemed kind of funny to me that he was in town on business and out of all of the things this man could be spending his time doing he ended up at a bar very well known as a place for men to pick up men. So my first response to him was, oh, you're not interested in trannies because you prefer men, right? This man got all bent out of shape over that, it was pretty hilarious. He kept buying drinks for my girlfriend and I though. Finally I had enough of his remarks so I said ok, I'll believe you if we go out to the parking lot and you show me how soft and un aroused you are, let's go. Well you know he was as hard as steel when we got out there.
I told him that I won, and that meant that he was going suck my cock. He pouted and started to protest. I told him I was not hearing that BS, I knew he wanted me and he was going to get me. My girlfriend came with us and we followed him back to his hotel. We got up to his room and I lifted my dress and slid my slinky black panties down and my girlfriend got her cock out and I ordered him to get on his knees. He dropped down and looked up at me desperately and said I'm married. I said I don't care, asked my girlfriend if she cared, she shook her head no. I said we're not interested in knowing about your marriage or why you've kept your love of cock a secret, but you better get to it. He hesitated too long and I grabbed his head and pushed my hard cock up to his lips and as soon as they opened I was in and pumping into his mouth.
He didn't know what hit him. He knew when he went to that bar that he was curious about something, he didn't expect to meet a forceful young tranny and her hot girlfriend. Nor did he expect for us to demand to be taken to his hotel for a double blow job. When I pulled out of his mouth and pushed him towards my friend's cock I told him that he was pretty good at sucking cock. Either he had done it before or had some practice of some kind. It didn't matter to us as long as he made us cum.
Tranny Rosalind
1-877-903-8726
tgirlrosalind yahoo & aim