It's so hard to find girls who match your interests isn't it? Not only do you look for sexy shemales like me, but you have a foot fetish too. I'm your girl! I am Cheyenne, a shemale Goddess, who loves foot fetish phone sex. It's not only cock you are going to sucking on today. Down on your knees with my pretty pedicured toes in your mouth. Sucking each toe like it was a little bitty dick. You will know when you're doing it right when you feel my toes curl in your mouth. I have been told I make the sexiest moans when I'm having my feet attended to.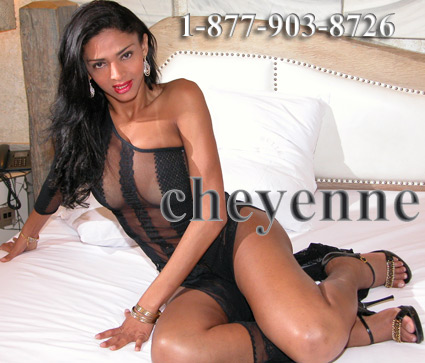 Learn how to give me a pedicure and a real foot massage and I will be putty in your hands. Notice the bulge in my panties as you gently stroke the high arches of my foot. Lay at my feet and let me use you as a foot rest. Feel my toes teasing your nipples, your cock, and your balls. I'm hoping you might be on the submissive side, because I just love to work my foot into your mouth. Fucking your mouth with my toes just because I can. I could use as my doormat and wipe my dirty feet on you. Or just lay still and let me stand on you while I'm chatting on the phone.
Do a good job on our foot fetish phone sex call and you'll get to feel my sexy feet on your hard throbbing cock. Lots of lotion making them so slippery and your cock just fucking my feet. I know just how to give a foot job to bring you to the edge and back. My toes curling over and gently squeezing the head of your cock. My feet holding and teasing your cum filled balls. Cum all over my pretty feet. I love to feel your cum oozing between my toes! Oh, and you're going to have to clean up your mess after.
For foot fetish phone sex with Shemale Cheyenne, call 1-877-903-8726 and ask for me
AIM – CheyennesDirtySecret