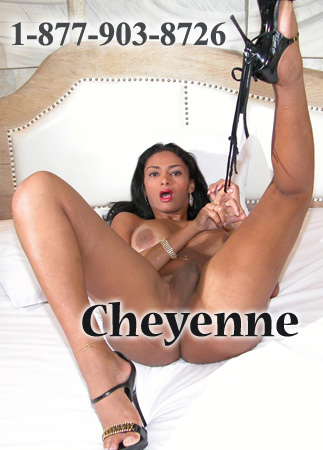 I'm Cheyenne and I am your soon to be favorite anything goes tranny phone sex girl. Yes, I'm sure you've talked to many shemales before me, but I guarantee you that you've never talked to one like me. I'm a Jill-of-all-trades and I can please you like you wouldn't even believe.
When I say that I am an anything goes kind of girl, I mean that. I'm one kinky bitch and I love talking about all of those far out fantasies and fetishes that other girls turn their noses up to. If you think your fantasy is too taboo, it isn't. In fact, when you call me I might even try to take it up a notch just to show you that I'm every bit as kinky as you are!
Even though I can be very raunchy, I also have a softer and more sensual side. Every woman likes to be romanced and treated like a Queen. I'm no exception. I can also be very seductive and romantic and treat you like a King. You work so hard and you deserve it. That also makes me the perfect choice for a girlfriend experience call. I can talk to you about your day, any problems you might be having and then at the end of the talk, I can romance you and even get really nasty with you if that's what you want. Isn't that what every man wants? I mean, I'm kind of the perfect GFE girl. All woman plus that something extra!
So are you ready to call me now for anything goes tranny phone sex? Anything your heart desires is yours, baby. All you have to do is ask me for it. I can be either a lady or a freak…the choice is yours. Call and ask for Cheyenne at 1-877-903-8726 and we will have the time of our lives.